For our landmark twentieth exhibition we sat down to pick the mind of long-time creative, Wojciech Magierski.
Saad Moosajee
Hi Wojciech, congratulations on being the featured artist for our twentieth release, WAR! While this release sees many new faces contributing to Slashthree, it's also been great to see contributions from veteran members like yourself. You joined Slashthree back in 2008, almost 5 years ago; what prompted you to originally join the collective?

Wojciech Magierski
First of all, thank you for featuring me. I really appreciate it. As you said, I joined Slashthree 5 years ago and I think it is great to be here. Joining collectives such as S3 is very important for artists in this day and age.


I think joining an art collective is a goal everyone in the digital art scene should have. It gives us many opportunities for improving as an artist and making more impressive artwork. The reason I joined S3 is to improve, and I can say with confidence that it has helped me grow.
Saad Moosajee
How do you feel your work has changed since joining the collective? Do you feel that Slashthree has affected the way you think and produce art?

Wojciech Magierski
Yes of course. When I think about my first project done for s3 it looks kind of weak in comparison with my newer artwork. Slashthree has a bunch of talented artists with experience and plenty of knowledge to share. We receive valuable feedback from people around the world in multiple disciplines, many who work professionally.

I am living proof of the system. 5 years ago my art was not being accepted into the exhibitions, and today I am interviewing as the featured artist. It's a huge progression.

Saad Moosajee
You hail from Poland. Can you discuss how your culture has affected the art you produce? What are your thoughts on the digital art scene in Poland?

Wojciech Magierski
Yes, I am from Poland. Recently I mentioned (to other artists) that I believe our Poland is one of the most talented countries in the digital art scene. There are a lot of incredible artists and agencies that produce at a very high level. I use this as motivation. If you are from Poland you cannot just be good, you have to be the best!

Saad Moosajee
It is clear that the digital art scene in Poland is at a very high level. How do you feel about the fine art side of things? Do you have a favorite Polish artist?

Wojciech Magierski
How do I feel? I don't want to sound selfish, but I am proud to be from Poland. It's a nation full of gifted artists. We also have neighboring countries like Russia, where you can find many outstanding artists. There are a lot of countries with great digital creators.

But as we talk about Poland, I admit I don't have just one favorite artist. I think I should mention a great man and world-renowned artist, Zdzis?aw Beksi?ski. He creates something magnificent and out of the box. Today we have a lot of younger people like Krzysztof Domaradzki and his brother Grzegorz. These guys are awesome and a great example of mixing traditional art with digital illustration. You can also check out Jarek Kubicki, who has a unique, memorable style. Poland has production studios like Platige Image. Platige has one of the most talented teams in all of Poland.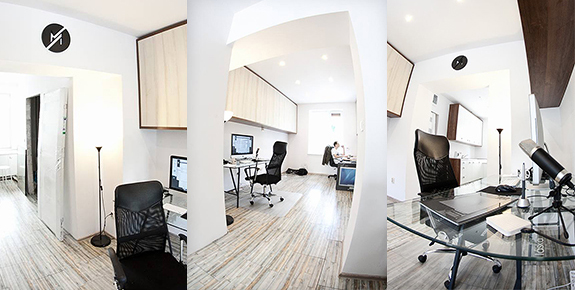 Saad Moosajee
It is hard to dispute that the past few years have seen a shift occur in the online digital art scene. Many artists gaining employment and pursuing education have affected the activity of artists within digital art collectives like Slashthree. What are your thoughts on these changes?

Wojciech Magierski
I think it's great. I'm currently producing DVD courses to teach digital illustration. It's very important to share our knowledge and pass it on to each other to help fellow artists improve their skills as well. We would not be as good as we are today without learning from those around us.

Slashthree has a strong core of artists. It seems every day someone wants to join S3 and it doesn't surprise me because of what the group has to offer. S3 has a great purpose and a lot of potential. The development of the site will depend on upcoming exhibition themes and new project concepts.

Saad Moosajee
A lot of the contributions we received for WAR aim to immerse viewers in alternate realities and bring new perspectives on what war is, but with your own work you seem to enjoy telling a story in a more implicit manner. Can you tell us about some of the thinking that led to your submissions?

Wojciech Magierski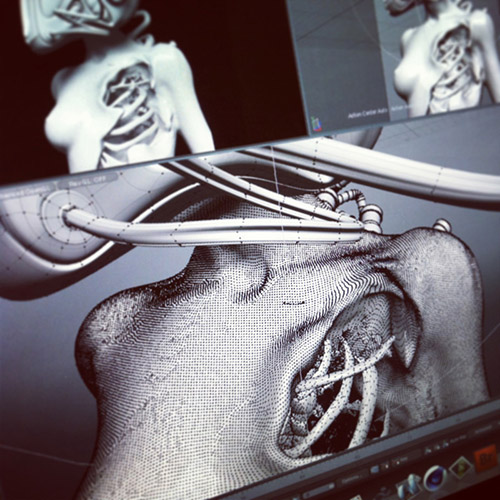 At the beginning I approached the subject little differently. I was thinking on how to show WAR in emotions such as love, trust and greed. The first artwork I created is "Joker." Here is a situation when a bad guy actually has good intentions. This depicts and internal conflict and struggle from within.

The next image, "Suitors," shows how the women seduce the man in the scene. I guess you could say the women have a war between each other for him. "Enyo" in mythology was a daughter of Ares, the god of war. My project is a future vision of her. "Guardians" was the most conceptual piece for me. It is about Auschwitz and Sonderkommando.

Saad Moosajee
Your submission 'Guardians' is a piece about the Sonderkommando, and is arguably the most conceptually rich of your contributions to War. Can you discuss your thought process when creating this piece?

Wojciech Magierski
Some time ago I was watching the documentary film about Auschwitz and there was an interview with Henryk Mandelbaum. He was one of the prisoners and crematory workers in the Sonnderkomando camp in Auschwitz. He is from Poland, and before he died, he recalled all of the horrors in the concentration camp. I recommend that you see the movie.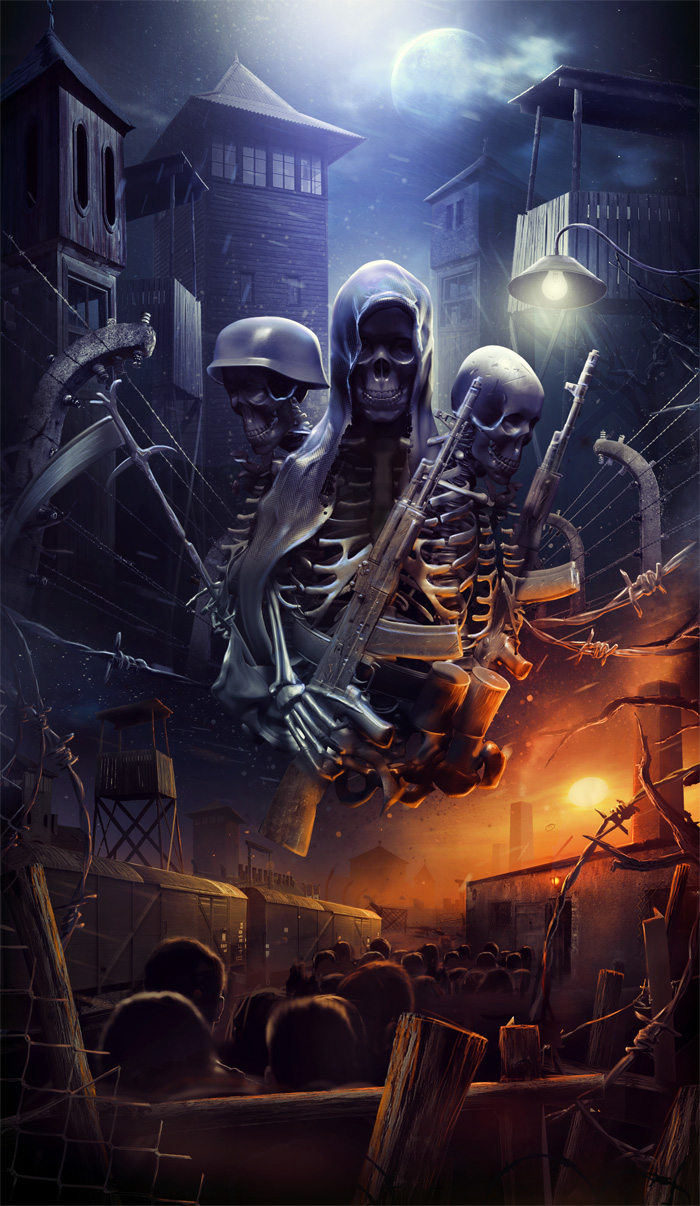 My submission was about them, the people. For me, the WAR subject was more in heads of these people. If you don't know, Sonderkommando weren't Germans. They were Jewish people, or Polish. The Sonderkommando were selected by Germans to keep order when people went to gas chamber. To imagine what some of these people went through is horrifying. The Sonderkommando were also deemed "the living dead," because once they weren't needed for their services, they met the same fate as the others. Henryk was one of 110 out of 2000 to survive to tell his story.

Saad Moosajee
Your proficiency is undeniable when it comes to digital software. Is there any tool, either traditional or digital, you have always yearned to master?

Wojciech Magierski
I work in Photoshop the most. I started with Photoshop and this is a very powerful software for 2D illustrations. But I wanted something more, so I decided to get in 3D modeling software. After experimenting in Zbrush and Modo, I discovered 3D is a lot of fun. These applications give you more freedom when you are designing. The boundaries don't exist; it's just you and your imagination.

I have plenty of experience when I work in Zbrush now. At first, this software seems difficult to learn. When you get used to it, the rewards are clear. In my opinion the most interesting and powerful software is Zbrush.

Saad Moosajee
Your piece 'Enyo' is a great example of this technical proficiency. What sort of challenges did you encounter while working on this piece?

Wojciech Magierski
This image was created first in Modo. The helmet was modeled from scratch, and then I created the heart and the body in Zbrush. I put all of these elements back into Modo, set the light and texture, and rendered it. After that, I brought the image into Photoshop and painted details like veins, etc.

Using different software gives you a possibility to design what you imagine from the start. As I mentioned, there is no boundaries, because you can create everything what that you need. Probably the trickiest part was to create the helmet and set the materials and lights. Maybe because I am beginner in 3D software like Modo, but the result was just what I was looking for.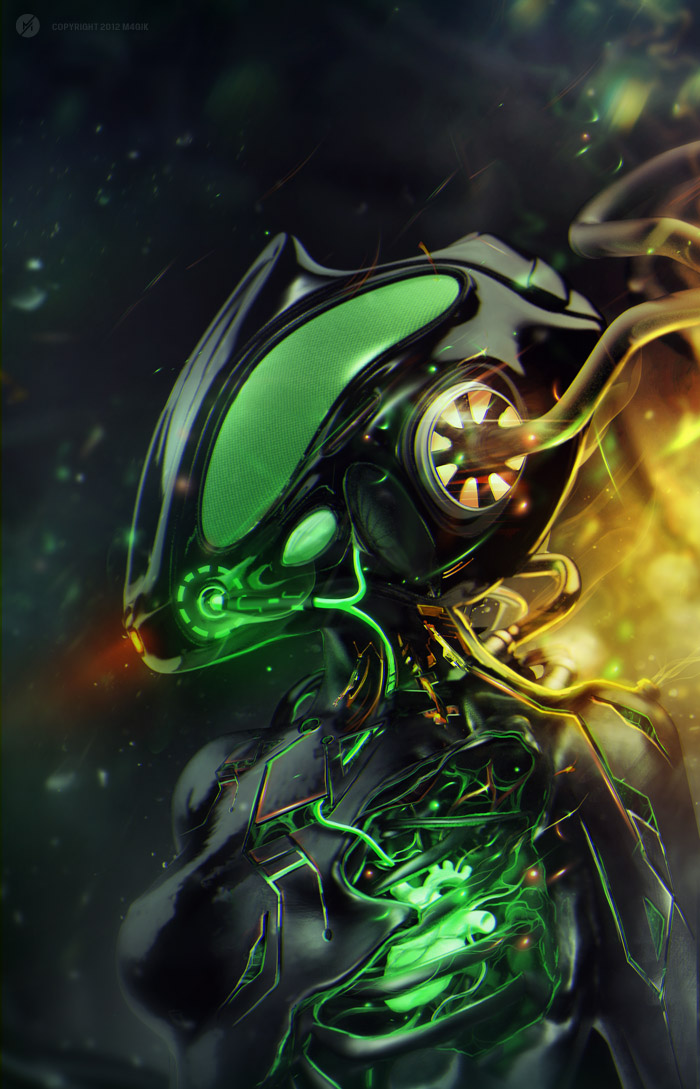 Saad Moosajee
Of the contributions to "WAR", what submissions stood out to you as some of the strongest both visually & conceptually?

Wojciech Magierski
This art pack is very specific and there are a lot of artworks different from each other. Some of them are abstract while others are realistic. All of them are great, however one artwork in particular that caught my eye is "Repossession" made by Smirtouille. The concept is great and the execution is at a high level. The style of the image is also nice, like it is painted with a brush.

To be honest, every submission in this release has something unique. I am very happy that Slashthree and our artists are back sharing this beautiful exhibition.

Saad Moosajee
These days the terms 'Art Director', 'Designer', 'Digital Artist', and 'Illustrator' all seem to intertwine. Which of those terms do you feel you most identify with? Do you classify yourself as just one of the above, or all?
Wojciech Magierski
Yes, you are right. There is only a small difference. You can be a good designer, but at the same time not know any software like Photoshop, so you cannot be a digital artist -- but you can be an illustrator if you are using a pencil to draw

Now everyone is using computers to create images, so that's why all of these terms seem to intertwine. I identify with 'Digital Artist' the most, because I am using computer applications to create my artworks.

Saad Moosajee
Outside of digital art, what medium do you find most creatively stimulating? (e.g. architecture, sculpture, etc.)

Wojciech Magierski
One and only one, sculpture. I love it. Maybe because my uncle is a sculptor and when I was a kid, he had a lot of projects scattered around his workshop. Sculpting is a very special medium; you can actually create what you imagine and don't have to think about rules like in architecture, plus you just sculpt and feel free. The rest is up to your creativity.

Saad Moosajee
What do you believe is the future of Digital Art and Digital Art Collectives?

Wojciech Magierski
I hope digital art will grow and it will be stronger each day. Today this is a very young field. If you visit a museum, you will not see digital artworks there, but I know someday this art will be everywhere. Digital art is something you can see on screens in the metro, in a restaurant or on your mobile device. Everything around us is digital art media.

What is more fascinating is that digital art can be in motion. This is also a form of an art. The times when we go to a museum and everything inside is static will pass. The future is certain - it's digital art. So it is clear that the Digital Art Collectives will survive. There is no chance to defeat them. Slashthree is a place where you can find your way to the future.
---